The Next Generation Business Building Solution for The Savvy Business Owner & Entrepreneur
Get the most out of your business. Build a thriving, sustainable business that is an asset.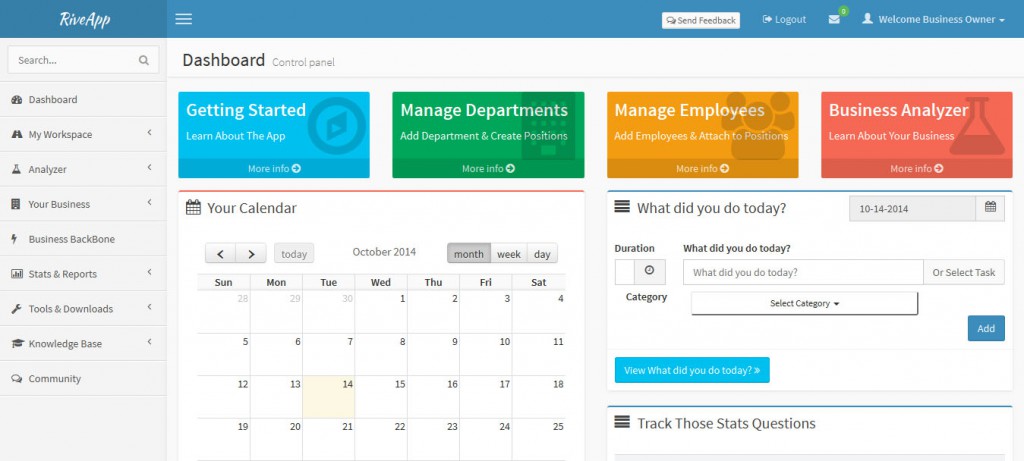 We help business owners start thriving and stop just surviving. RiveApp is about creating a better type of business. A business that is sustainable, an asset, and can thrive for years to come, with or without you.
Organize Your Business
The basics of RiveApp will help you organize your business. When you start recording everything your business does you can start to see the bigger picture.
Stop running your business from memory.
Create teachable, repeatable processes for easy training.
Learn where you and your employees are spending time versus where you and your employees should be spending your time on.
Identify where your business is having issues.
Implement smart, trackable, and achievable goals.
Get Help
Creating and building a business shouldn't be a journey you take alone. Tap into the knowledge of our business experts and business peers.
Obtain practical solutions to help your business.
Reach out to other business owners through our Community Forum.
Access to expert business consultants.
Extensive article library & knowledge base.
Accelerate Your Business
Take your business to the stars. Start growing your business in a logical, sustainable and calculated direction towards success.
Improve business systems by analyzing, redefining, and implementing.
Faster, logical growth through calculated strategies.
Better opportunity recognition and evaluation.
Create marketing strategies that redefine.
Manage Your Team's Direction
Provide the direction to turn ordinary people into extraordinary performers. Direct your employees, the dynamic and most valuable asset, to propel the business to new heights.
Change your employees into team members that are valued.
Build a better team by recognizing and nurturing your teams strengths.
Easily define your team members' roles and work expectations.
Manage your team with effective accountability.
Boost productivity while keeping them aligned with the business direction.
Awesome Features To Help Your Business Today
Intuitive, User-Friendly, & Practical
Department & Position Builder
Community Discussion & Support
Mission Statement Builder
Objective/Goal Management
Product & Service Manager
Article Library & Knowledge Base
Start Building The Business You Want Today!
Start Thriving Instead of Just Surviving
Start Learning Today
